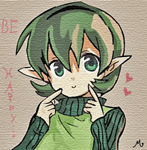 Write the first paragraph of your page here.
Saria's Tree Stump
Edit
I'm Saria and I'm British.
I was a lurker back in the old TZN days but became and active part of the FFF community when it was formed in February 2012. I have met a lot of friends here and I am truely honouored to have met each and every one of you guys.  I was asked to become a part of Community Management in September 2013 and took over as Director in March 2014
Well I'm female and British Im usually found around the forums and occasionally on the mumble and minecraft servers, although don't get me near water on the minecraft server seriously it is s disaster waiting to happen!
When I'm not at work or online I do ALOT of theatre work, I am an active member of two local groups in summer is my quiet time but in the autumn I can be rehearsing for two shows at once and in as many as five times a week!