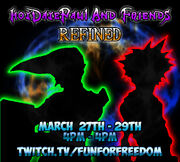 HotDatePaul and Friends is a quarter-anual marathon that usually has a runtime of 48 hours ran by HotDatePaul on the FFF Main Channel.
HotDatePaul And Friends
Edit
HotDatePaul and Friends was a 48 hour marathon on the FFF Channel that raised over $100 for City of Hope from November 26th to November 29th 2013.
HotDatePaul and Friends Refined
Edit
HDPAFR was a 26 hour marathon (Meant to be 48) that unfortunately had to be canceled as one of Paul's friends was overtired and got Paul's IP globally banned from twitch. HDPAFR ran from March 27th to March 28th 2014. HDPAFR raised $20 for the March Charity.
HotDatePaul Marooned
Edit
HotDatePaul Marooned was a 24 hour marathon for Team Rubicon that took place on August 6th, 2014. It raised $20.
HotDatePaul and Friends: Slumber
Edit
HotDatePaul and Friends: Slumber is an upcoming marathon of unknown legnth. This marathon will be cut into segments to make the marathon less rough around the edges. More info to come soon.